Portable, versatile and fast.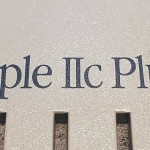 Narrative »
A coworker acquired this machine from a local school and sold it to me for $100.
Vital Stats »
Model Number:

A2S4500

Serial Number:

E933F9QA2S4500 – Manufactured during the 33rd week of 1989 in Singapore.
Acquisition Data »
Acquisition Date:

Spring/Summer 2004

Acquisition Method:

Purchase

Acquired From:

Coworker
Physical Condition »
Condition:

Good. Minimal yellowing.

Last Tested Date:

10/5/2014

Other:

Original power cord present and video cable present. None of the associated packaging is present. Manuals are not present.
Associated Accessories »
ReactiveMicro No-Slot-Clock installed.
A Berkeley Softworks geoMouse from my Laser 128 is used frequently with this machine.
Photographs »