The third computer I ever owned: an industry icon.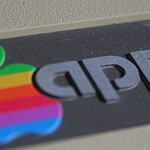 Narrative
On a whim, I had picked up a copy of a state wide trade/swap paper (think craigslist, but tactile) and found this listed. The owner lived in town. It was a miracle! Acquired as part of a deal between my mother and I, I agreed to do a certain amount of housework in exchange for this and his companion for me to tinker. This machine is the reason I am a computer technician today.
Vital Stats
Model Number: A2S2064
Serial Number: 1A2S2-D4B 1RC5 A2S2064

Board Revision: B
Board Date Code: 44th week 1984
Acquisition Data
Acquisition Date: March 1994
Acquisition Method: Purchase
Acquired From: Gift from Parent
Physical Condition
Condition: Good. Yellowing is significant. Video jack is a little wonky. Slot 2 has some corrosion. Missing one foot. 4 key is missing the keycap and the stem is broken. Tilde key was 'modified' because it stuck against the power light frame, and young Joe didn't realize he could use the screws to adjust the keyboard position.

30 June 2018: Disassembled, cleaned, reassembled. Passed Apple //e Diagnostics.
24 April 2016: Returned original power supply.
28 August 2011: powered on to prompt prior to power supply swap to the Apple //e Platinum.

Other: None of the associated packaging or manuals are present.
Associated Accessories
AUX: Apple IIE 80Col/64K Expansion Card
Slot 1: Apple II Super Serial Card
Slot 6: Apple Disk ][ Card
One "Super 5″ half height 5.25" floppy drive
One "Pico" half height 5.25″ floppy drive – [LDD-103SSA] / Repaired on June 16 2018.
Assorted software manuals, cables and software.