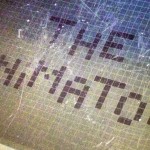 I know, it's not a computer in the modern sense of the definition.
The one I have is an early one – date coded April 1986, the month it was released. I remember getting this for christmas when I was six years old, but being both sick that Christmas and lacking the attention span to play with it. My sister, eight years my senior, took the thing and in a couple of hours had programmed in one of the default animations from the book.
Don't have the book, box or battery cover and it's pretty beat up. It was a kid's toy – whaddaya expect?
In later years, it's function was relegated to that of a make-believe monitor for a computer I didn't have.
Update: I have managed to get the Animator apart, with a little perseverance. See the video below! The rubber membrane buttons barely work now. I would love to take this apart and clean out the buttons but the security screws in this are very weird – a funky kind of tri-wing/tri-lobe/tri-groove for which I have never been able to find a bit/driver (see image below). Three slots, separated in the center by a tiny "triangle". The ends of the slots closest to the center of the screw are more shallow then the edges closest to the diameter of the screw. If anyone knows where I can find a bit to remove these, I'd appreciate the help!