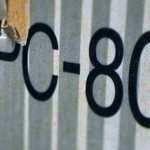 One of Franklin's attempts at the IBM market, post Apple fallout.

Narrative »
Received via donation at my place of work. Originally came with the monitor, too, but during a shop clean out, the monitor was tossed. Bummer. The machine is in beautiful aesthetic condition, but does not function properly.
Vital Stats »
Model Number:

PC-8000

Serial Number:

08030430


Date Code:

870924 (Built 24 September 1987)
Acquisition Data »
Acquisition Date:

2001 or 2002

Acquisition Method:

Donation

Acquired From:

Client Dropoff
Physical Condition »
Condition:

 Mixed – Aesthetically great, functionally poor.

15 March 2015:

 Displays K-B Error! on POST. Will not boot using any known good disk or drive.

Other:

Original keyboard, power cord, and packaging are with machine. Manuals are not present.
Associated Accessories »
None. Original monitor was lost due to miscommunication.
Photographs »