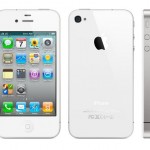 My first iPhone.
Narrative »
I had a Motorola Droid Milestone and I wanted an iPhone. Upgrade time rolled around and I got what I wanted.
Vital Stats »
Model Number:

MD277LL/A

Serial Number:

C3——–FC
Acquisition Data »
Acquisition Date:

Apr 18, 2012

Acquisition Method:

Purchase

Acquired From:

Verizon
Physical Condition »
Vitals:

iOS 8.1.1

Condition:

Fair. Typical usage scratches here and there, small nick on upper left corner. Primary phone microphone doesn't work, must be used in speakerphone mode or with an accessory. No longer my primary mobile, replaced on 7 November 2014.

7 December 2014: Booted back up, works fine.

Other:

Original box, shrink wrap and all associated materials are present. Technically speaking, the charger and cable are missing, but they're in the house here somehwere.
Associated Accessories »
Speck PixelSkin Case, Black [SPK-A0792] – Outstanding Product! Only complaints are that it's very grippy and can be difficult to retrieve from a pants pocket.
Belkin Max 008 Case, Black [F8Z826ebC02] – Great for about 6 months, but then the hard component of the case warped and the upper left corner of the case would not stay on.
Photographs »