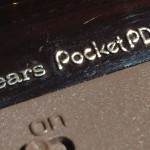 A gift from a co-worker.
Narrative »
Rob's father had died and in his personal collection were a plethora of odd items, this being one of them. Rob knows I collect old computing equipment and offered it as a gift.
Vital Stats »
Model Number:

272.58100

Serial Number:

0036154
Acquisition Data »
Acquisition Date:

 Late 2013

Acquisition Method:

Gift

Acquired From:

Rob Howard, co-worker
Physical Condition »
Condition:

Good. Rechargeable batteries are dead, unsure if device works, as I have no power adapter.

Other:

Original leather zip-case and manual. No packaging or power adapter.
Associated Accessories »
Photographs