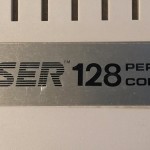 The portable Apple II that outdid the IIc.
Narrative »
A client dropped this off at the office with a box of goodies.
Vital Stats »
Model Number:

?

Serial Number:

84477
Acquisition Data »
Acquisition Date:

2003

Acquisition Method:

Donation

Acquired From:

Client
Physical Condition »
Condition:

Good. Minimal yellowing.

Last Tested Date:

–

Other:

Original power power brick present. None of the associated packaging is present. User's Guide/BASIC Manual and hard bound Technical Reference Manual are present.
Associated Accessories »
Berkeley Softworks geoMouse
Laser Joystick
"Big Blue" Thermal Printer with Manual [Model: 5181001 / FCCID: AZD9MA5181001 / Serial: 0173156]

Canon Manufactured, commonly rebadged by IBM – this particular device has a custom manual for the specific pairing of this printer and the Laser 128 and was resold/rebadged by Computer Direct from Barrington, Illinois – a company that seems no longer to be operating.

Okidata OKIMate 20 Thermal Transfer Printer, with manuals [Model: EN3211 / Serial: 809A0179542]
Laser 128 RGB Cable, in box
Software

Broderbund Software The Print Shop Creative Workshop Series, in box.
Bill Budge Pinball Construction Set, in box with manual
Infocom Zork I, in box with all original inserts
Sega/Main Street Publishing Frogger, with instruction sheet
Walt Disney Software (Hi-Tech Expressions) Matterhorn Screamer, in box
Ray Tobey's Skyfox, in box
Random House Software Garfield Double Dares, in box
American Educational Computer sleeve and instruction sheet – disk missing
Artsci Magicalc, Magic Memory, Magic Words with Manuals
Spinnaker Sum Ducks, in box
ComputerEasy Spell Castle, in box
ComputerEasy, Math Climbers, in box
Photographs »