The most powerful Apple II ever created.
Narrative »
Simple eBay find, picked up one Sunday afternoon when I was bored. Had been keeping an eye out for a ROM 03 model for a while, found this and snagged it up.
Vital Stats »
Model Number:

A2S6000

Serial Number:

A2S2-E942YRXA0012LL/A – Manufactured during the 42nd week of 1989 in Singapore.

Configuration:

5.125 MB RAM, GS/OS 6.0.1 with GUPP 1.7
Acquisition Data »
Acquisition Date:

28 September 2014

Acquisition Method:

Purchase

Acquired From:

eBay
Physical Condition »
Condition:

Good. Minimal yellowing. Floppy drive works perfectly.

30 November 2014: Replaced BRAM Battery

Other:

Original keyboard, mouse and 800k Floppy included. Original power cord and monitor are not present. None of the associated packaging is present. Manuals are not present.
Associated Accessories »
Apple Keyboard II [M0487]
Apple Desktop Bus Mouse [A9M0331]
Apple 3.5″ Drive [A9M0106]
Nishida Radio DVI Adapter
In reserve: SainSmart/Gonbes GBS-8220 Converter Board
Slot 1: Uthernet II Card
Slot 3: UltimateMicro TransWarp GS Clone Prototype
Slot 6: Compact Flash for Apple II [CFFA3000 – Run 3] with 8GB CF Card
Slot 7: MicroDrive Turbo with 256MB CF Card
RAM Slot: GGLabs RAMGS 4MB RAM Card
Photographs »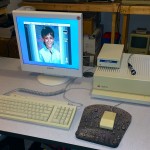 Here's a cheesy birthday message created using this computer.