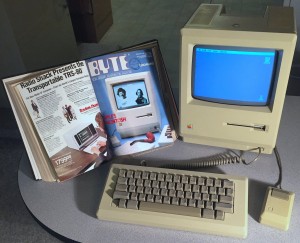 512kb version of the original Mac – with upgrades!
Narrative »
Vital Stats »
Model Number:

M0001W

Serial Number:

F53827BM0001W – The 2561st manufactured during the 38th week of 1985 in Fremont, CA
Acquisition Data »
Acquisition Date:

2004-ish

Acquisition Method:

Donation

Acquired From:

Client Dropoff
Physical Condition »
Condition:

Good. Fair yellowing. Analog board in fair condition. Floppy drives works perfectly. Bad PRAM battery.

23 October 2015:

Boots okay. Analog board issues seem to be causing random instability.

23 April 2015:

Boots fine. Slight distortion along top edge of display, and periodic ripple horizontally.

2 December 2014:

Machine boots just fine.
Other:

Original keyboard and mouse missing. None of the associated packaging or manuals are present.
Associated Accessories »
Computer Care Mac Rescue Add-On Board
MacBottom 20MB Hard Drive

Model: MACBOTTOM SCSI
Serial Number: 0702096
Contains Rodime 20MB 3.5″ 50 pin SCSI drive. Original power cable present.

Apple ImageWriter [M: A9M0303 | S: 681849]

Failed. Printing from this Mac: hangs the Mac. Printing from an Apple II: a bunch of Ä across the page, no carriage return.
Photographs »