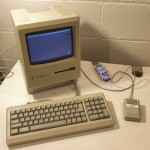 One of the longest produced Mac models. Iconic.
Narrative »
Received a phone call where I work asking if we recycle old computers. My ears always prick up when I hear those words so I asked what it was. They said it was an old Mac. I told them someone around the office could probably make use of it!
This Mac is by far in the best physical condition of any of my Macs. For a machine of it's age, it's in amazing shape.
Vital Stats »
Model Number:

M0001A

Serial Number:

F8176MXM0001A – The 7,681st manufactured during the 17th week of 1988 in Fremont, CA.

Installed RAM:

4MB
Acquisition Data »
Acquisition Date:

5 March 2014

Acquisition Method:

Donation

Acquired From:

Client Dropoff
Physical Condition »
Condition:

 Very Good. Minimal yellowing on front surface only. Analog board seems to be in good condition.  Floppy drive works perfectly. Bad PRAM battery.

19 October 2015: booted and worked fine. Installed 4MB RAM upgrade at this time. May this happy Mac live for another thirty years!
10 March 2014: booted and worked fine.

Other:

Original keyboard, mouse and power cord are with machine. None of the associated packaging is present. Manuals are present.
Associated Accessories »
Apple ImageWriter II
Two General Computer Company Hyperdrive FX/20 SCSI Hard Drives – one boot, one data. The boot drive works, the data drive does not.
Assorted cables and software.
Photographs »