Sharp PC-1500 Pocket Computer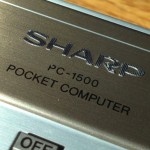 Came as a little surprise in the box with the March 2014 Macintosh Plus.
Narrative »
Not much to this really. It came in the box with the March 2014 Mac Plus that was donated.
Vital Stats »
Model Number: PC-1500
Serial Number: 21000780

Acquisition Data »
Acquisition Date: 5 March 2014
Acquisition Method: Donation
Acquired From: Client Dropoff
Physical Condition »
Condition: Good.
Last Tested Date: 10 March 2014
Other: Leather zip-case included. No other materials, manuals, power adapters included.
Associated Accessories »
Sharp CE-160 Program Module with Battery – has some sort of geothermal equation calculator program on it.
Printout from the above geothermal calculator.
Photographs »