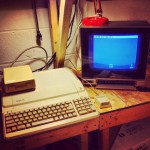 Stable, compatible, and loaded to the gills – a workhorse.
Narrative and Provenance »
This computer was originally the property of Knox County Joint Vocational Center (later to become the Knox County Career Center). It was donated to me by a client named Ghislaine Quinn. She had used it for genealogy and upgraded to a 2009 iMac. We used a Power Mac, a USB floppy drive and help from the software company to successfully import her Apple II data to a Mac running OS X. How's that for usability? Heard from her last in February 2015, which at that time she was still using the 2009 iMac. Sadly, Ghislaine died later that year. When she died, I fired up the computer in salute to her.
This machine came fairly loaded, but I've added the VGA adapter, Ramworks Card, CompactFlash adapter, a Mouse Card and a No-Slot Clock. Every usable slot is full.
Vital Stats »
Model Number:

 A2S2128

Serial Number:

 3A2S2 E920SVTA2S2128


Logic Board Date Code:

20th week 1989
Acquisition Data »
Acquisition Date:

Spring/Summer 2009

Acquisition Method:

Donation

Acquired From:

Ghislaine – she was a sweetheart.
Physical Condition »
Condition:

 Good. Some yellowing. 'L' key bounces sometimes.

26 June 2018:

Installed A2Heaven Fastchip //e and Reactive Micro Mockingboard

24 April 2016:

Replaced power supply and put the swap back into it's original Apple IIe.

18 February 2016:

Received repaired board – machine fully functional.

21 January 2016:

Diagnostics lead me to believe the machine has a bad ROM socket. Will send board to a qualified Apple II repair tech for remediation.

21 December 2014:

 Tested, works.

Soon after acquisition:

Original power supply has failed; using power supply from another Apple.

Other:

Original power cord present. None of the associated packaging is present. Manuals are not present.
Associated Accessories »
Accessories Legend ► Original Part | Added By Museum | From Another Machine
Apple Monitor II [A2M2010]
ROM Socket:

AUX: UltimateMicro RAMWorks IIII Card

Apple //E 80 Column/64K Memory Expansion Card [820-0067-C] [not installed]

Slot 1:

Clone Super Serial Card [Repaired]
Slot 2: Reactive Micro Mockingboard v2.1

Slot 3:

A2Heaven FastChip //e

Slot 4:

Apple II Mouse Card [670-0030-F]

Slot 5:

VTech Universal Disk Controller Card

Chinon Industries 3.5″ Floppy Drive [BQF9WGR354MCU] [FAILED]

Slot 6:

Apple 5.25 Drive Controller Card [655-0101-E]

Apple DuoDisk 5.25″ [A9M0108]

Slot 7:

Compact Flash for Apple II series 1.1 rev B

8MB Flash Card with ProDOS 2.0.3

Not Installed:

Apple II Memory Expansion Card w/ 1MB RAM (AKA: Slinky) [670-0024]
Reactive Micro Universal Power Supply Kit
Apple ImageWriter II
A Berkeley Softworks geoMouse from my Laser 128 is used frequently with this machine.
Photographs »
Videos »